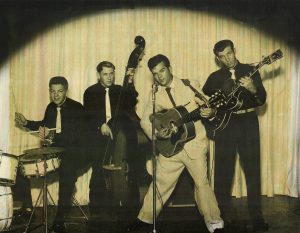 Harold Jenkins  & the Rockhousers
      Billy Weir-Bill Harris-Harold-Jimmy Ray Paulman
Gumball Biography
Gumball Studio
…….is one of those projects  that  has taken  30  years to become an overnight success.  Organization began in the Spring of 2000, when Bill's wife needed a place to park her car.  Her  jeep  Cherokee was having to sit outside so that his  British  Cars could remain dry and  rust-free during the wet and cold season. In defense,  Kay decided her only resource was to build a separate building for the  Jag,  MGB, and  MG Midget. That plan suddenly included a small room to have a recording studio, and the bigger room for the cars. Viola!!!
The  Gumball name was applied after searching for an undetermined noise that had shown up in one of our recordings, when we finally identified that the sound on a track was a gumball from a  tree  outside,  rolling down our metal roof, before being fully insulated!
The prior 30 years for founder Bill (Billy) Weir, starts at Humes High School, Memphis, Tennessee. It was about the same time that another Humes student,  Elvis,  was also beginning his career.  Bill's career had an unusual jump start  when  a  young  Rock-n-Roller,  Harold  Jenkins  better  known  to  you as  Conway  Twitty,  from  Helena, Arkansas, asks Bill to play drums for him, becoming one of the original Rockhousers. Quoting W A (Bill) Harris, "At that time he was one of the youngest professional musicians on the road." This was Conway Twitty's first  Rock and  Roll  Band.  Billy's  recording  background  begins at age  15,  with many hours at Sun Records in Memphis,  which  included session work with notable artists, musicians, and engineers.  At age 16, Bill's experience takes him to  Nashville and the  Owen  Bradley Studio, where he records with  Conway,  Jimmy "Luke" Paulman, Martin (Willy) Willis,  Bob Moore and  The Anita Kerr Singers on the  Mercury  Label, to produce all the prior hits, that sets the stage for Conway's rise to stardom.
Through  the years,  Bill  has  remained  active in the music scene and  has formed many valuable relationships with artists  and musicians — friends that have been instrumental in helping gain the knowledge and education to stay in the  music  business to which he is dedicated.  Billy's  friendship with  Scotty  Moore,  in Nashville, led to his own release on the Belle Meade label, which achieved moderate success.   Bill started  mainly with Southern Gospel, Christian Music, and did not advertise his well hidden studio. Now with close to 10 years in the business and through long-time friends made, plus "word of mouth", Bill has reached into virtually all genre's of music. Christian, Christian Rock, Country, Bluegrass, Rock, Celtic, Several styles of early acoustic music, Classical, Italian Tenor, and lately Latin rock and salsa. Gumball Music is now heard through-out the world!
New at the Gumball Experience, has been the addition of Jimmy "Luke" Paulman,  as writer/ musician, and partner in PAULMAN AND WEIR PUBLISHING.
Suddenly, Gumball, has a library of new material and is looking for artist that want to be hooked up to some exceptional "original and new" songs!
It has been a trip! and just keeps on and on and on……………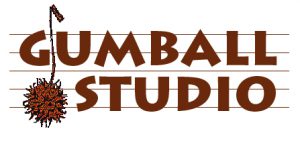 And probably most obvious to our visitors is the Gumball Logo.  
Fred  Rawlinson, also a Humes graduate, designed the now famous Logo.